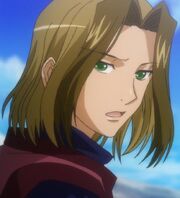 Salawell Seile (sometimes spelled Salawel) was Noa's friend.
In the credits of episode 8 he is credited as Sarawel Seal and voiced by Kouzo Mito.
Description
Edit
"This more-or-less twenty-five year old man was one of the first nobles that Noa knew. He graduated as the top talented scholar from the Royal College. And he was from the famous Sael family. He was her mentor in all matters of the royal matters and her most trusted person." (DYD Vol. 3, from BTT)
He was killed by Miran in Episode 8/DYD Vol.3 after Miran was finished with using him.
Ad blocker interference detected!
Wikia is a free-to-use site that makes money from advertising. We have a modified experience for viewers using ad blockers

Wikia is not accessible if you've made further modifications. Remove the custom ad blocker rule(s) and the page will load as expected.