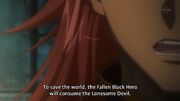 The Fallen Black Hero is named 22m into episode 22. A legendary hero who consumed the Lonesome Devil. He is probably a guy Ryner sees in one of his visions, a hero seen in the introduction in episode 1, and cognate to Sion Astal.
Also just referred to as Black Hero (or Kuro Yuushin) at the start of episode 24.
Ad blocker interference detected!
Wikia is a free-to-use site that makes money from advertising. We have a modified experience for viewers using ad blockers

Wikia is not accessible if you've made further modifications. Remove the custom ad blocker rule(s) and the page will load as expected.