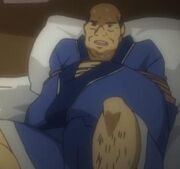 Broff (sometimes spelled Brophs) is a lord voiced by Ikuya Sawaki in Japanese and Brian Mathis in English. He is being tortured 20 minutes into episode 2, first by water and then by nails.
Ad blocker interference detected!
Wikia is a free-to-use site that makes money from advertising. We have a modified experience for viewers using ad blockers

Wikia is not accessible if you've made further modifications. Remove the custom ad blocker rule(s) and the page will load as expected.